Big problems are upon us!

The World Weather Organization in Geneva reports that surface warming of plus 1.5°C above pre-industrial levels is expected to be exceeded as early as 2026. Although this immediately puts the result into perspective again by suggesting that the value could again be below, in the following years, but I don't believe in that. I am referring to each country's individual social and environmental reports and the IPCC's new 2021 environmental report. The data it contains suggests a different view. The 1.5°C limit is actually expected to be reached in 2025 and exceeded in 2026. After that the temperature will continue to rise. The direct connection with our economy is shown in the graphs below.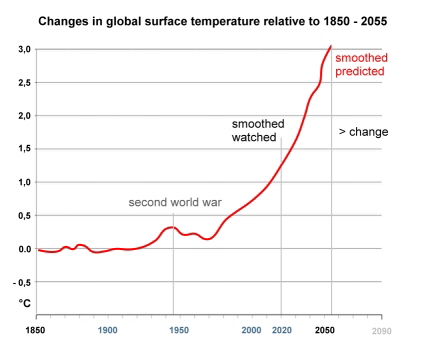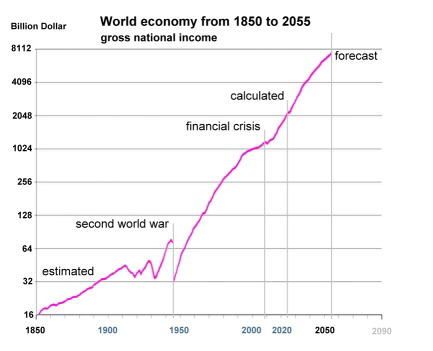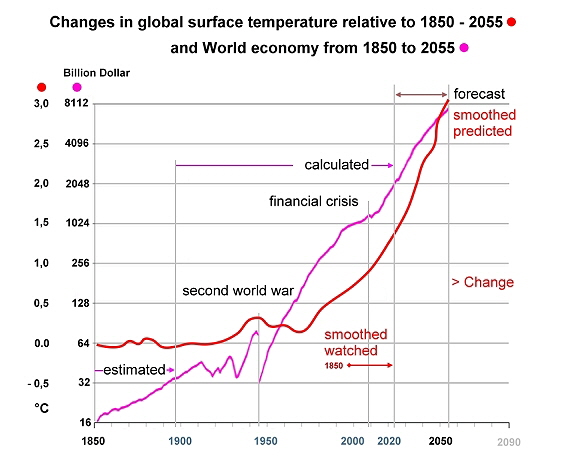 A summary graphic might make the drama more visible. Exactly because capital through interest and/or yield exponentially grows, has to be produced more and more, which then makes the earth's surface warmer and warmer. And because there is hardly any product with real 0% emissions and, to be honest, never will, we have to reckon with the exponential melting of all ice surfaces and thus a rise in sea level of up to 11m by 2100.he previous assumption that the melting of the poles and glaciers would take 1000 years should be dismissed as wishful thinking. All previous projections were exceeded many times over. An exponential development also starts with the melt.

An example to this:

From the environmental report for Mexico. By 2050, 50% of the energy should come from solar energy. Mexico is considered a pioneer in this region. Economic growth is ~ 2.0% per year, so Mexico's economy will grow by 62% in 2050. In addition, there is a population growth of ~ 1.3% per year, so the population will grow by ~ 40% by 2050. In Mexico, CO² emissions will increase about 50% as much. If we take a look at the Mexico Stock Exchange, it is striking that it grows by ~ 5.0% per annum, which means that poverty in Mexico will continue to grow strongly despite good economic growth. Mexico's economy would have to grow by at least 8% in order to reduce poverty on the one hand and to enable government contracts on the other hand, which could eliminate the extreme deficits in infrastructure and health care. These measures would also create new jobs that would be urgently needed to enable the people to take care of themselves under these conditions. However, with economic growth of 8%, capital would grow so quickly that 16% growth would be needed over the next 10 years to generate the same effect. Another effect would be that CO2 emissions would then increase by at least 200%. What ultimately shows us that under the given circumstances, poverty must now increase so that the earth does not overheat even faster.

COP27 Current

There was no lack of disputes at the climate conference in Sharm el-Sheikh. It was mainly about the money, one would like to soften the +1.5°C again, which was prevented at the last minute. Unfortunately, many scientists are of the opinion that we have already reached the +1,5°C or we will reach the +1.5°C by 2023 at the latest, which would then make this goal obsolete anyway. The poorest countries should now receive money from a fond for any climate damage, for which between 120 and 150 million dollars are planned, considering that Germany is currently investing 100 billion euros in new weapons, a farce. So I would say the whole Cop 27 could have been saved, Sharm El Sheikh became Shame El Skew here.



To the coronavirus

The corona virus is just another problem of capitalism, in order to be able to increase profits further and further we have to penetrate ever further into nature and so we come into contact with wild animals there.

Anyone who observes the development of multi-resistant germs will find that antibiotics are used in factory farming, which promote the formation of these germs. Because for these reasons the emergency antibiotics are already being used, hospitals around the world can hardly cope with these dangerous germs.

It was only a matter of time before such a virus appeared and we can count ourselves lucky that this virus is still relatively weak. It could have been Ebola or a similar mutant.


This sites uses no cookies, no tracking, no statistics


To the top