Big problems are upon us!

The World Weather Organization in Geneva reports that surface warming of plus 1.5°C above pre-industrial levels is expected to be exceeded as early as 2026. Although this immediately puts the result into perspective again by suggesting that the value could again be below, in the following years, but I don't believe in that. I am referring to each country's individual social and environmental reports and the IPCC's new 2021 environmental report. The data it contains suggests a different view. The 1.5°C limit is actually expected to be reached in 2025 and exceeded in 2026. After that the temperature will continue to rise. The direct connection with our economy is shown in the graphs below.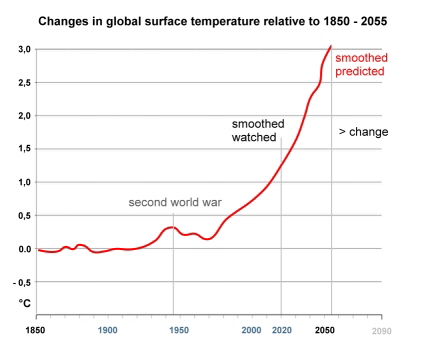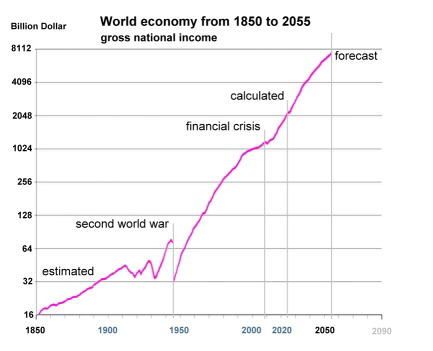 An example to this:

From the environmental report for Mexico. By 2050, 50% of the energy should come from solar energy. Mexico is considered a pioneer in this region. Economic growth is ~ 2.0% per year, so Mexico's economy will grow by 62% in 2050. In addition, there is a population growth of ~ 1.3% per year, so the population will grow by ~ 40% by 2050. In Mexico, CO² emissions will increase about 50% as much. If we take a look at the Mexico Stock Exchange, it is striking that it grows by ~ 5.0% per annum, which means that poverty in Mexico will continue to grow strongly despite good economic growth.

COP26 Current

There was no shortage of promises at the climate conference in Glasgow. India, the last important country, has now also committed itself to climate neutrality, but not until 2070. Then the states agreed to fight deforestation together, from 2030 onwards. Ultimately, however, experts reckoned the states' new climate targets and came to the conclusion that the global community is far from limiting global warming to 1.5 degrees Celsius. Rather, it is heading for 2.4 -3.7 degrees Celsius. See also my calculation example regarding Mexico. We cannot refuse Central and South America the so-called prosperity, also an African will try to be able to call an SUV his own as quickly as possible ... So personally, I think: If not something really fundamental is happen, even the calculated 2.4 - 3.7 degrees Celsius are far from what we can really expect.



To the coronavirus

The corona virus is just another problem of capitalism, in order to be able to increase profits further and further we have to penetrate ever further into nature and so we come into contact with wild animals there.

Anyone who observes the development of multi-resistant germs will find that antibiotics are used in factory farming, which promote the formation of these germs. Because for these reasons the emergency antibiotics are already being used, hospitals around the world can hardly cope with these dangerous germs.

It was only a matter of time before such a virus appeared and we can count ourselves lucky that this virus is still relatively weak. It could have been Ebola or a similar mutant.


This sites uses no cookies, no tracking, no statistics


To the top